Small Cap Commentary | Q2 2021
 Click here for printable version
  .  
Overview
Following a strong start to the year, small cap stocks mostly moved sideways in the second quarter, digesting recent record-breaking gains. The six-month period ending March 31, 2021 was the best six-month performance since 1983 for the Russell 2000 Index. While the COVID-19 pandemic continues to rage around the world, it is fading here in the U.S., and life is quickly returning to normal. Small Cap stocks' recent performance reflects this recovery but does not fully reflect our growth expectations in areas like consumer spending, housing activity, and business capex over the coming years.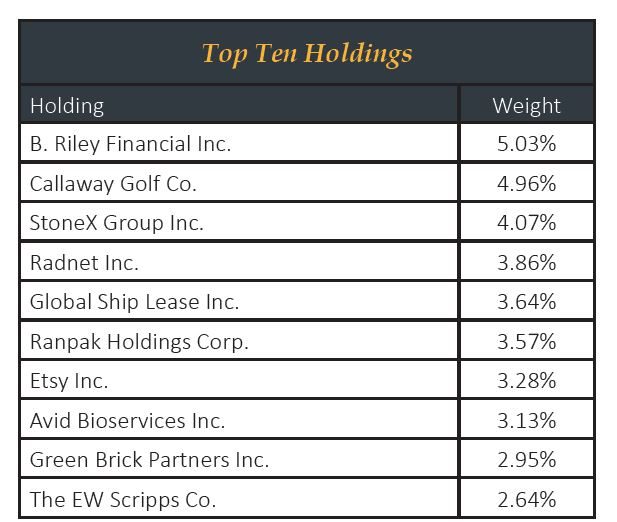 While the Russell 2000 was up 12.7% in the first quarter of 2021 (peaking in mid-March), the index returned only 4.3% for the second quarter. One stock—AMC Entertainment—accounted for nearly 15% of the total return of the index in the quarter, and "meme stocks," in general, continue to create headwinds for more quality-biased small cap investors (see conclusion on pages four and five for more detail).
Year-to-date, small cap stocks are up 17.5% compared to 15.2% for the large cap S&P 500. Small cap value stocks continue to shine, leading growth stocks on both a second quarter and year-to-date basis. While the value vs. growth trend began to reverse late in the second quarter, we believe this long-term reversion to the mean is far from over.
Attribution
The Punch Small Cap Strategy returned 7.7% in the second quarter compared to 4.3% for the benchmark Russell 2000 Index. Through June 30, the Punch Small Cap Strategy is up 29.8% for the year, while the benchmark index is up 17.5%. With a relatively concentrated portfolio of companies and significant sector weighting differences from the benchmark, our approach to investing in undiscovered small cap companies does tend to have relatively high tracking error over time.
Individual security selection contributed 3.3% of total alpha in the quarter, while sector allocation also contributed 0.6%.

Bottom Contributors to Performance
All three detractors' performance in the quarter reflected the market's disbelief that their respective business strength over the past 15 months can continue. In general, we believe that this is not "as good as it gets." Supply chain challenges are still hampering performance, and the broader economy is only starting to emerge from the pandemic. Meanwhile, longer-term macro trends remain in place which should provide economic tailwinds. Each of these stocks also trades at a below-market valuation, increasing our confidence in their ability to drive attractive returns over the long-term.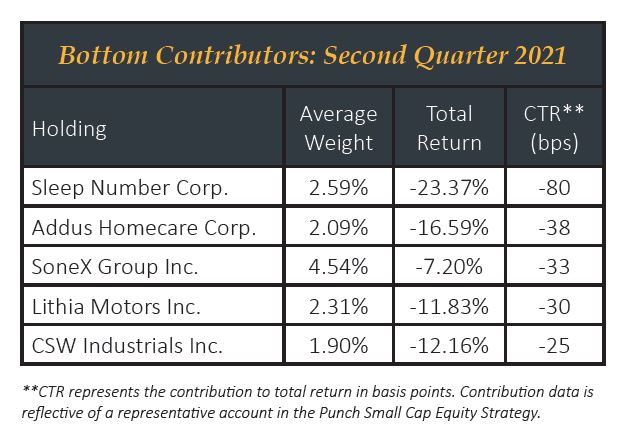 Sleep Number Corporation (SNBR, $2.7 billion market cap), a vertically integrated premium mattress manufacturer and retailer, was the top detractor in the second quarter. During the pandemic, Sleep Number was a large beneficiary of consumers investing into their homes, as they were largely unable to spend elsewhere. Year to date, the stock has performed well but did pullback from its first quarter all-time highs. Sleep Number remains a core holding in the strategy, as we think it will continue to benefit from consumers' interest in the health benefits associated with sleep. (The company is a leader in sleep analytics.) We also think the strong operating leverage demonstrated in 2020 can continue, as the company has ample opportunity to expand its online and physical presence.
Addus HomeCare Corporation (ADUS, $1.4 billion market cap), provides home care services to assist with daily living activities, as well as hospice and home health services. The company is a beneficiary of the United States' aging population and "aging in place" preferences. Earlier in the year, the state of New York gave notice that Addus was not to be renewed as a provider to one of its programs. New York made up 18% Addus' revenue in 2020, and investors were concerned this might have broader implications. Importantly, the non-renewed contract does not represent all of the company's New York business. It was disclosed that the affected business will be around $50 million of revenue and $4 million of operating income in 2021 compared to total company expected revenue and operating income of $870 million and $65 million, respectively. We think the company will be able to replace the business or win it back on appeal. We also believe the strong macro and demographic tailwinds will continue to help drive growth for the foreseeable future.
Lithia Motors, Inc. (LAD, $10.5 billion market cap) is an auto dealership franchise with operations throughout the United States. Like Sleep Number, the company benefited from strong demand during the pandemic. Despite a strong earnings report in the quarter, the company's stock pulled back from its first quarter all-time highs. Investors are concerned about the short-term availability of vehicles, as supply chain shortages are expected to limit available inventories. There is also a medium-term concern that recent strength effectively pulled future demand forward. Lithia has several growth opportunities to offset any near-term pressures on its operations. The company is buying additional dealerships at accretive valuations and investing in its online offering. Both initiatives appear to be going well and helping the company get ahead of schedule on its 2024 EPS target of $50 (compared to its stock price of $344/share at quarter end). At less than 7x 2024 P/E, compared to the company typically trading around 15x earnings, we think the upside remains attractive and remain impressed with this founder-family led organization.
Top Contributors to Performance 
Owner and operator of medical imaging centers, RadNet, Inc. (RDNT, $1.78 billion market cap), was the top contributor to performance during the first quarter. RadNet offers x-rays, ultrasounds, and MRIs at outpatient centers for a fraction of the cost for the same service at a hospital or clinic. It has been a holding in our portfolio since the third quarter of 2019.
During the quarter, investors received positive news that procedural volumes had rebounded back to – or above – pre-COVID levels for most modalities giving management confidence to raise their guidance for the remainder of the year. Adding to the positive sentiment in the quarter, the FDA approved a new Alzheimer's drug that recommends patients receive at least two MRIs annually, a clear benefit to RadNet, as they are the largest fixed-site diagnostic imaging business in the country. Looking forward, we believe the business is well-positioned to continue benefiting from several initiatives including the implementation of artificial intelligence into the screening process and the entrance into the Arizona network. Finally, we believe the growing trend towards outpatient care is in the early innings, as both patients and payers look to reduce the cost of care.
Last quarter we introduced a new holding in Global Ship Lease, Inc. (GSL, $710 million market cap), and it was a top contributor this quarter. As a reminder, the company is an owner and lessor of mid-size containerships. Over the last year, there has been exceptionally strong demand for containerships, as businesses have struggled to keep their supply chains moving fast enough to keep up with demand from pent-up consumers. This surge in demand has effectively eliminated idle industry capacity, creating a very positive pricing environment for ships coming off lease.
After initiating a regular dividend in January, the company announced three separate acquisitions adding a total of 23 ships to the fleet and expanding fleet capacity by 40%. We believe the favorable industry supply and demand dynamics are unlikely to change anytime soon creating an attractive runway for Global Ship Lease's growing fleet. The shares exchange hands today at the undemanding pro-forma valuation of 4.1x while yielding 5.1%.
The final top contributor was contract drug manufacturer Avid Bioservices, Inc. (CDMO, $1.57 billion market cap). With two specialized facilities in southern California, the business manufactures pharmaceuticals during both the development stage and in large batches when drugs become commercially available. Significant regulatory hurdles to build and register a facility, along with high switching risks and costs for existing customers, create a defensible moat that we believe makes the business attractive.
Our initial thesis when we took the stake in the third quarter last year was centered around Avid having significant excess manufacturing capacity at their facilities. We believe the business can more than double its capacity within its existing certified facilities in the coming years with a moderate amount of growth capex. After hiring a new CEO one year ago, the company has executed according to plan, as they work to expand their facilities while also growing the backlog of work by 82% to fill this excess capacity. We believe the incremental margins on this additional capacity are high and should provide a meaningful lift to earnings in the coming years.
Portfolio Activity
During the second quarter, we initiated a new position in Oportun Financial Corp. (OPRT, $560 million market cap). Oportun is a mission-driven lender that uses unique algorithms to underwrite and offer low-income consumers access to small loans they otherwise might not have the ability to attain. Throughout the company's 16 years of existence, they have helped nearly one million customers with no previous credit history establish a credit score. Unique algorithms built in-house allow Oportun to underwrite this at-risk population and provide credit below the cost of other predatory alternatives. During the depths of the pandemic, Oportun pulled back on lending and was able to maintain credit quality near pre-COVID levels.
Before the pandemic (from 2016-2019), Oportun had been growing EBITDA and net income at 16% and 33% growth rates, respectively, before purposefully slowing loan originations during the pandemic. Today, we believe the business is set to accelerate once again, as they rapidly expand throughout the United States with a new partnership strategy that is expected to nearly double their total addressable market. Additionally, in the coming years, we believe the company has an opportunity to expand its offerings into investment, savings, and insurance products while serving this same ignored demographic. Over time, we believe the valuation should improve as the company executes on these numerous growth opportunities while also being recognized for having a unique financial technology platform that produces a positive social impact.
On May 11, it was announced that Ferro Corp. (FOE, $1.7 billion market cap), a provider of specialty materials worldwide, would be acquired for $22 per share in cash by a strategic buyer. The price represented a 28% premium over the pre-announced stock price. While we were disappointed with the takeout valuation, believing that it undervalued the company after years of operational improvements and strategic re-alignment, we believe that a superior offer is unlikely and exited the position in the second quarter.
Also in May, we exited commercial furniture maker Kimball International (KBAL, $460 million market cap) after disappointing first quarter results. While we have generally been impressed with the management of the company since its separation from sister company Kimball Electronics in 2014, its primary end-market of domestic office and commercial furniture has changed dramatically during the pandemic and, given the excess supply of office space today, we believe that a material recovery in the company's end-markets is a ways off.
Conclusion
Definition of a "meme stock" from UrbanDictionary.com:
"A stock whose price keeps going up beyond a point that makes logical sense, which may or may not result in a steep drop later when the hype dies down."
This year has brought several new words into the investment lexicon. "Meme Stock" is certainly one of them. "Stonks" is another (look it up on reddit). The meteoric and inexplicable ascent of meme stocks like Gamestop and AMC have upended traditional notions of investing and, as a group, these stonks have accounted for a significant portion of the performance of several indexes this year.
As irrational as some of these stock moves have been, equally puzzling to us are the low valuations that can be found in today's market on some of the more prosaic (but profitable) companies. While many of these companies do not have the hype or pizzazz of an electric vehicle maker or a space travel company, their businesses are nonetheless established, profitable, and growing. That is more than many meme stocks can say.
Many of these stocks can be called "value" stocks insofar as they are slower-growing, more established businesses and tend to be more cyclical (that is, they do well when the economy is doing well). On a price-to-cashflow basis, this group trades below its average valuation over the past decade, meaning that they are cheap.
By contrast, "growth" stocks – that tend to be faster-growing but are also more speculative and sometimes unprofitable – are twice as expensive as their historical average. This group includes many meme stonks.
In the Punch Small Cap strategy, we own several cyclical companies that trade at what we believe are attractive valuations. Boat manufacturers, home builders, and auto dealers are just some examples of businesses currently held that trade at below-average multiples of earnings and are seeing strong sales and earnings growth. These companies have recognizable brands, customer loyalty, and reputable management.
Part of these stocks' cheapness may reflect expectations that the post-pandemic boom may not last too terribly long. We disagree. The dramatic life changes that we all have experienced over the past eighteen months will likely alter habits and lifestyles for years to come. More time with family, more focus on one's home, and more spending in general will probably last awhile. We believe that some of these companies will benefit from those changed preferences and priorities.
Consider that personal savings hit an all-time record in the U.S. last year at 30% of average income, and it has remained above 15% since the pandemic began. Consumer spending has rebounded to 2019 levels but is still only back to a pre-pandemic trend line. Anecdotal evidence from consumer-related companies suggests that there are no signs of "buyer fatigue" in sight.
The disparity in valuation between "to the moon" meme stonks and underappreciated cyclical stocks is stark today, and we think that those two groups have significantly different risk and reward characteristics. When the hype dies down, we may find out what those differences are.
  .

---
  .
  .
. 
Disclosures:
This material is for informational purposes only and is not and should not be construed as accounting, legal, or tax advice. Punch & Associates does not provide legal, accounting, or tax advice, and accordingly encourages clients and potential clients to consult professional advisers with respect to these matters.
Punch & Associates is registered as an investment adviser with the U.S. Securities and Exchange Commission. Registration as an investment adviser does not imply a certain level of skill or training. The information disclosed is intended to provide potential options we understand may be available to you and should not be construed as accounting, legal, or tax advice. Whether any or all of these options could be available or benefit you can only be determined following the advice of a qualified attorney and your tax advisor. Punch & Associates is not a law firm or accounting firm, and none of our associates are practicing attorneys or tax professionals. As such, we advise you to seek qualified counsel before making any legal decision. The material shown is for informational purposes only. Certain information contained herein may constitute forward-looking statements. Forward-looking statements are subject to numerous assumptions, risks, and uncertainties, and actual results may differ materially from those anticipated in forward-looking statements. As a practical matter, it is not possible for any person or entity to accurately and consistently predict future market activities. Some information may have been provided by or compiled based on information provided by third party sources. Although Punch & Associates believes the sources are reliable, it has not independently verified any such information and makes no representations or warranties as to the accuracy, timeliness, or completeness of such information.