Small Cap Commentary | Q4 2016
Click here for printable version
Overview
In many respects, 2016 was the year that no one predicted.  In the first six weeks of the year, the Russell 2000 plummeted 14% and officially entered bear market territory from their previous high in June of 2015.  From there, it rocketed 42%, aided by a post-election pop that ended the year in almost the mirror opposite way that the year began.
The year started in fear, was punctuated by Brexit and a tumultuous Presidential Election, and ended in some old-fashioned greed and performance-chasing.  The tenor of this market has shifted 180 degrees over the past twelve months.
As observers of the behavior of other investors, the ebullience of the past few months has begun to make us a little uncomfortable.  Deal flow is surging, valuations are moving up, and there is plenty of optimism surrounding the new administration.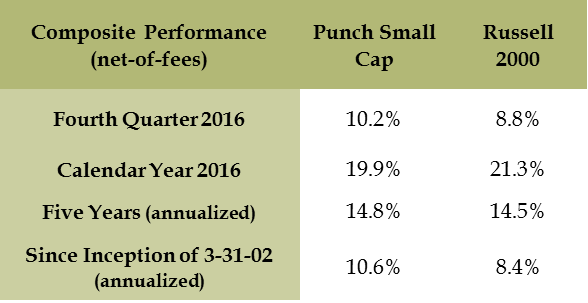 However, we are cognizant of the fact that these are the first real signs of "animal spirits" that we have witnessed since this recovery began some six years ago.  Before the election, the Russell 2000 Index was basically flat for three years running and we believe that valuations for many companies are fair but not excessive.  What is more, the potential impact of a pro-business political environment is real and could be meaningful.
In 2016, the Punch Small Cap Strategy lagged its benchmark Russell 2000 Index, with a total return of 19.9%, net of fees, compared to 21.3%.  Our risk-averse investment philosophy generally means that we tend to lag in strong up-markets which are being bid up quickly and when there is less regard for value.  The significant outperformance of the Materials (+47.9%) and Energy (+28.3%) sectors—both of which we have historically avoided—also contributed to our underperformance.
If we did anything right in 2016, it was our severe underweighting of the healthcare sector, which was the lone small-cap sector to decline (-7.3%) for the year.  As we have written about several times in the past, healthcare has become an expensive and much-loved group over the past few years, and we have had some difficulty finding quality companies at reasonable valuations in this area.
Our three healthcare holdings in the year were all healthcare services companies and represented an average weight of 5.0% of the portfolio compared to 13.9% for the benchmark.  This significant variance from the benchmark, which we view as a risk mitigation measure, was a strong tailwind to performance: the weighted average performance of our three healthcare stocks was +47% for the year.
It is a hallmark of our risk-averse investment philosophy that areas of the market that are the most popular, the most expensive, and the most over-weighted are often the riskiest.  For us, there are no "must own" investments, and we are unafraid of looking different than the benchmark—sometimes meaningfully so—and of risking short-term underperformance with the goal of avoiding long-term pain.
We remain significantly underweight healthcare today for several reasons.  First, valuations still appear stretched for the group as a whole.  On average, the Russell 2000 healthcare index trades at nearly 1.8x price-to-sales, above the pre-Obamacare average of only 1.2x.  With an uncertain regulatory environment ahead, these valuations may compress.  Second, this group of stocks is what we consider relatively "low quality"—as of December 31, 62% of the companies in this group were unprofitable on a GAAP earnings per share basis.
Another observation we have made recently is that a startling number of companies in the Russell Microcap Index have no earnings at all.  In fact, 44% of companies lose money on a GAAP earnings per share basis—a record proportion not seen since the recession years of 2008-2009.  If there is froth in this market, we believe it is concentrated among these unprofitable, speculative companies (many of which are healthcare-related), whose shares have levitated on the back of easy money and driven much of the performance of the small-cap market these past several years.
Over the long-run, of course, profitable companies do win out, on average.  This is a core belief of ours and it is reflected in our strategy:  87% of our holdings are profitable on a GAAP EPS basis over the last four quarters.  We recently did a study in Bloomberg and were unsurprised to find out the magnitude of outperformance of profitable companies over the long-term (see nearby chart by Bloomberg and Punch & Associates).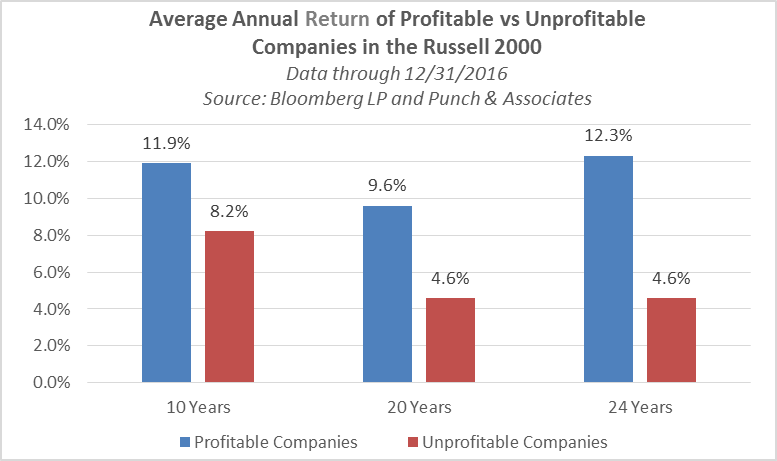 Positive Contributors in 2016
Our top contributor to performance in 2016 was Douglas Dynamics (PLOW, $757mn market cap), which is the largest manufacturer of attached snowplows in the country, with over a 50% market share.  Despite a mild winter in 2015-16, Douglas is benefitting from strong light-duty truck sales and pent-up demand by its core customers.  Pre-season sales going into the winter season were exceptionally strong, and management's outlook was likewise positive heading into this all-important time of year.
The management team at Douglas, which we believe has done a phenomenal job driving high and consistent profitability in a business that is both seasonal and cyclical, executed their largest acquisition to-date ($200 million) in July of a New York-based manufacturer of customized truck parts.  As the deal closed in mid-July, we have yet to see full combined financial results, but we think this management team has a lot of credibility in selecting and executing such deals.
Our second-best contributor to performance in the year was a REIT, Corenergy Infrastructure Trust (CORR, $414mn market cap), whose share price was hurt in 2015 by falling oil prices but likewise helped in 2016 by rising prices.  Corenergy, which owns energy-related infrastructure assets on a triple-net lease basis, came through the energy crisis of the past couple of years virtually unscathed—an impressive feat.  While many energy business models were badly dinged in the downturn (some did not survive), Corenergy actually raised its dividend twice in 2015 and held it steady in 2016 with no credit impairments to speak of.  Having come through the worst of the crisis with its business model intact, the company is now in a position to execute further leases to asset owners in need of capital, with the goal of growing both dividends and book value per share over time.
The third-largest contributor to performance in the year was Landauer (LDR, $463mn market cap), a provider of radiation monitoring services to hospitals, utilities and the military.  As you might imagine, this service is critical, highly technical and has massive barriers to entry.  As a result, Landauer enjoys leading market share and high profitability in this niche.  The company entered 2016 having just gotten through some operational issues under a previous management team, and the stock was quite depressed.  In 2016, under a new CEO and CFO, the company has done a nice job of re-focusing on their core "crown jewel" business and preparing to launch a new wireless technology platform that could improve its financial profile meaningfully.
Negative Contributors in 2016
Our largest detractor from performance in the year was automotive supplier Gentherm (THRM, $1.2 billion market cap), largely amid concerns of a peak in U.S. auto sales as well as competitive pressures in its heated- and cooled-seating products.  A major customer of the company, Lear Corp (22% of sales), announced in September a new joint venture with a private company called Tempronics that competes directly with Gentherm.  While it would likely take several years for Lear to displace Gentherm to any meaningful degree, the threat is real, and we are trying to discern its impact.
In the meantime, Gentherm management has been diversifying away from its largest end-market (passenger cars) and has, so far, done a nice job of expanding into other consumer, medical and industrial areas that hold promise for the company's unique thermal technologies.
Our second largest detractor from performance was Destination XL Group (DXLG, $216mn market cap), a specialty retailer focused on the men's big-and-tall segment.  Destination XL is in the midst of a significant transformation of its business model, going from old and outdated stores under the "Casual Male" moniker to new, big-box concepts under a new brand, "Destination XL."  What we like about the company is that they are by far the leader in the small but growing big-and-tall niche, which has unique characteristics that make it difficult for other retailers to compete.  In fact, both Men's Wearhouse and JC Penney have tried and failed to expand into this area.  It is one of the few areas in retail with some clear competitive advantages, especially against online merchants like Amazon.  Also, we have been impressed by the company's CEO, Dave Levin, who has shepherded the company for the past 15 years and knows this space intimately.
In 2016, DXL struggled with same-store sales growth primarily because the company is transitioning to a completely new brand, for which it takes time to develop awareness and a customer base.  The retail environment has also been difficult generally as of late, although we believe that DXL held up better than most.  Looking into 2017, we think the company is coming to an inflection point where sales growth from new stores will start to overshadow lost sales from closed stores, and the company's free cash flow should grow meaningfully.
In 2016, we exited holding DHI Group (DHX, $423mnn market cap at the time), but not before it could do some damage to the portfolio.  The holding declined nearly 24% before we exited in June, and it was our third worst detractor from performance for the year.
DHI is an online recruiting service and operates such websites as Dice.com for IT-related job listings and eFinancialCareers.com for finance-related jobs.  We initiated a position in DHI in 2012 because we were attracted to the company's asset-light business model that consistently generated significant free cash flow and its exposure to improving employment trends.  The company's websites were well-established (Dice.com was founded in the early 1990s) and focused on specific industries and verticals which we believed made them valuable to employers, recruiters and job-seekers.
The stock had been pressured going into 2012 on fears that a start-up in the online recruiting world called LinkedIn would disrupt the business model of traditional job sites.  The company's valuation was pressured to around a 10% free cash flow yield, and management was buying back significant amounts of its stock with cash flow—the share count declined nearly 25% while we were shareholders.  After our own research and conversations with people in the industry, we came to the conclusion that the "LinkedIn Effect" was overblown.
Over the ensuing three years, we slowly came to the conclusion—as did the management team—that LinkedIn was indeed having a meaningful impact on how employers and recruiters source job candidates, and that companies like DHI needed significant investment to keep up with their fast-growing competition.  After several disappointing quarters and difficult conversations with company management, we came to the conclusion that the investment required to keep up with LinkedIn was too significant and that cash flow was at risk.  We exited in mid-2016.

Initiations and Exits in the Fourth Quarter
We initiated three new positions and exited one in the fourth quarter, ending the year with 47 total positions.
In November, we added e-commerce provider Etsy (ETSY, $1.4bn market cap) to the portfolio, a 2015 IPO that entered the year down nearly 80% from its peak.  ETSY fit neatly into the category of "Broken IPOs" where investor expectations have gone from exuberant to apathetic in short order.  We like such situations because there is a tendency for the selling pressure on these stocks to be overdone as investor frustration takes hold.
Etsy is the largest e-commerce platform for handmade goods in the country and boasts over 1.6 million active sellers and 24 million active buyers.  Unlike many e-commerce companies, Etsy is a marketplace (akin to Ebay) and not a seller themselves, so the company carries no inventory and operates in a relatively asset-light model.  Over half of revenues come from providing back office services to the individuals who sell products over the platform.
A large part of the stock's decline over the past year has come from fears that Amazon may encroach on the "handmade" goods segment and disrupt the Etsy platform.  We think that, like Ebay, Etsy has a strong competitive advantage in its established network of buyers and sellers, as well as in its brand value.  The company generates healthy free cash flow which is expected to grow exponentially as the company continues to scale.
In December, we added both CommerceHub (CHUBK, $644mn market cap) and Par Pacific Holdings (PARR, $662mn market cap) to the portfolio.  Both stocks had not participated in the strong post-election market rally, and we believe that both were experiencing some degree of selling pressure going into year-end (CommerceHub because it is a spin-off, and Par Pacific because of tax-loss selling as the stock declined over 38% in 2016).
CommerceHub was separated from its parent company, the John Malone-controlled Liberty Ventures (LVNTA) in July of 2016.  The company provides drop-ship software services to retailers and consumer goods companies, allowing them to more effectively and efficiently sell their goods online.
We like the CommerceHub business model because it benefits from a network effect.  Having created the largest network of connections between retailers and consumer goods companies in the country, the value of the business grows exponentially with each additional node added to the network.  Moreover, we believe that this network would be extremely difficult to replicate by a potential competitor.  The business is subscription-based, growing rapidly and sports healthy margins.  We think we are getting the opportunity to accumulate shares of this attractive business at reasonable valuations because of the "spin-off effect" and a lack of analysis on it—the company has no analyst coverage.
Par Pacific Holdings is an energy portfolio company whose principal assets are two oil refineries, a network of gas stations on the island of Oahu and assorted interests in domestic drilling wells.  Additionally, the company has over $1 billion in net operating losses (NOLs), which management is attempting to utilize by acquiring profitable assets in the energy sector.
The company grew out of a bankrupt shell in 2012 and was taken over by an investor group led by real estate mogul Sam Zell.  Because of the company's concentrated ownership, unique mix of assets and history of raising equity through rights offerings to preserve the value of its NOLs, the company remains largely unknown, and shares trade at a significant discount to what we believe to be NAV.
Our lone exit in the quarter was Inventure Foods (SNAK, $185mn market cap at the time), a manufacturer of snack foods and frozen berries and vegetables.  We initiated a small position in the stock in early 2015, shortly after the company completed an attractive acquisition and follow-on equity raise.
We had followed the company for several years beforehand and liked their strategy of shifting their product mix away from less healthy "indulgent" snacks (like potato chips) toward healthy snacks (like frozen berries and vegetables).  The company had successfully integrated and grown several acquisitions and looked capable of doing more.
Unfortunately, about a year after closing the large frozen vegetable acquisition, there was an outbreak of listeria at the company's Georgia plant which resulted in a large-scale recall.  After several lengthy conversations with management, we came to the conclusion that, although they were handling the situation as best as possible, the potential long-term damage to the brand was real, and their financial flexibility was limited given a hefty debt load and contracting cash flow.
When the company announced that it was exploring strategic alternatives in mid-2016, the stock moved to a range that we considered within its likely fair value to a potential acquirer, and we exited the stock at a loss.
Outlook and Conclusion
Despite the strong returns for small- and micro- cap stocks in 2016, we think it is relevant that, over the past decade, this asset class has performed below its long-term average.  The rolling 10-year returns for small-cap stocks remain at a multi-decade low (see nearby chart).
Our takeaway is that this asset class remains out-of-favor, undervalued and relatively attractive.  From a contrarian point-of-view, we are excited for the prospects of this group of stocks over the years to come.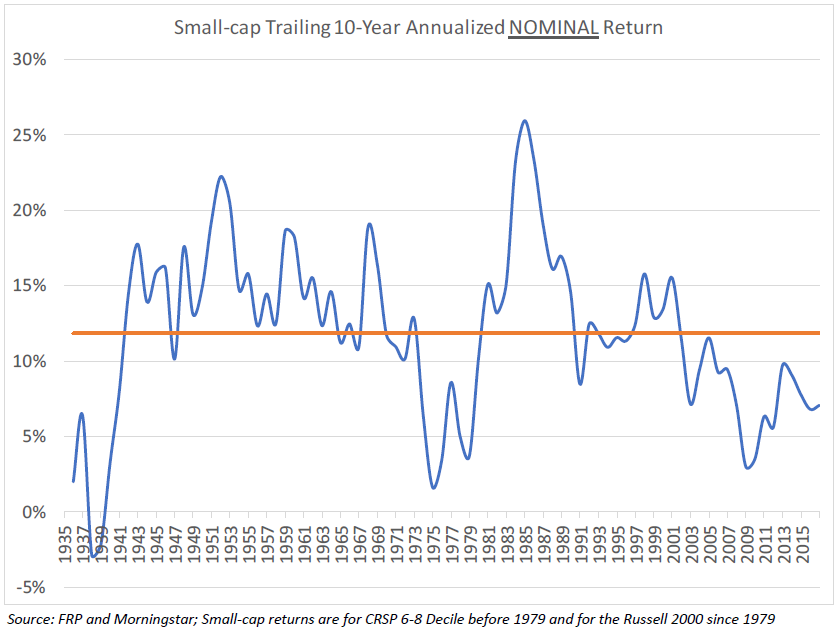 Disclosures
Punch & Associates Investment Management, Inc. (Punch & Associates) is a registered investment adviser; registration as an investment adviser does not imply a certain level of skill or training Information presented herein is subject to change without notice and should not be considered as a solicitation to buy or sell any security.  Information presented herein: 1) may incorporate Punch & Associates' opinions as of the date of this publication; 2) is subject to change without notice; and 3) should not be considered as a solicitation to buy or sell any security, as any offer will be made solely to qualified persons via delivering of appropriate offering documents.  Forward-looking statements are subject to numerous assumptions, risks, and uncertainties, and actual results may differ materially from those anticipated in forward-looking statements.  As a practical matter, no entity is able to accurately and consistently predict future market activities.  While efforts are made to ensure information contained herein is accurate, Punch & Associates cannot guarantee the accuracy of all such information presented.  Material contained in this publication should not be construed as accounting, legal, or tax advice.  
Composite performance is shown net-of-fees and brokerage commissions paid by the underlying client accounts.  Certain client accounts have directed us to reinvest income and dividends, while others have directed us to not reinvest such earnings.  As such, performance data shown includes or excludes the reinvestment of income and dividends as appropriate, depending on whether the account has directed us to reinvest income and dividends.  Past performance is no guarantee of future results, and investing in securities may result in a loss of principal.
The holdings included within the Top 5 and Bottom 5 charts represent the five best and worst performing holdings over the period of time referenced (Measurement Period) taking into account the weighting of every holding within the Punch Small Cap Equity Strategy portfolio.   The holdings identified do not represent all of the securities purchased, sold or recommended for Punch & Associates' clients during the Measurement Period, and the past performance shown is not a guarantee of future results.  Users may obtain the calculation methodology used as well as a listing of every holding's contribution to the Punch Small Cap Equity Strategy portfolio overall performance during the Measurement Period by contacting Punch & Associates at andy@punchinvest.com or 952-224-4350.
Punch & Associates claims compliance with the Global Investment Performance Standards (GIPS®) and has prepared and presented this report in compliance with the GIPS® standards.  Please refer to the attached Composite Profile and Schedule of Performance for information regarding Punch & Associates' compliance with GIPS® standards.
*Inception of the Punch Small Cap Equity Strategy was March 31, 2002.